In case you haven't noticed, the whole world is in the midst of supply chain crisis. Long story short, thanks to Covid-19 disrupting global supply chains, businesses can't find enough parts – or people – to meet demand.
One of the industries hit hardest by this is the auto sector. That's because in order to make a new car, you need multiple semiconductor chips, and semiconductor chips are one of the parts facing the biggest supply shortages at the current moment.
That's why used car prices are soaring! Because new automakers don't have enough parts to make that many new cars, so lots of buyers are flooding into the used car market, driving prices in that market to all-time highs.
It's also why every automaker from Ford to GM to Volkswagen is seeing their new car sales take a big hit this year.
Well… that is… every automaker except for Tesla (NASDAQ:TSLA).
Tesla just reported Q3 numbers this past week, and they were nothing short of stellar. You're talking record-highs across the board. Record-high deliveries. Record-high revenues. Record-high margins. And the growth isn't small – deliveries rose 73% year-over-year, revenues rose 57% year-over-year, and operating margins expanded 534 basis points year-over-year.
In short, Tesla is killing it right now, and every other automaker is struggling.
This underscores a very important reality in the auto market: EVs are taking over. Not next year. Not in 2025. Right now.
Tesla's own CFO Zachry Kirkhorn said it best on the company's recent conference call:
"There appears to just be quite a profound awakening of the desirability for electric vehicles."
Kirkhorn is absolutely right. Everyone wants an EV these days. But that's just the tip of the spear. Because alongside the soaring demand for EVs, EV costs are plunging, the range of EVs is lengthening, their recharge times are shortening, the EV charging infrastructure is expanding, the tax subsidies are getting bigger, the supply of EVs is booming…
Everything – and I mean everything – is working in favor of EV adoption these days.
Folks, the writing is on the wall. EVs are going to takeover the automobile market. Not next year. Not in 2025. Starting right now. And by 2040, we predict that 80% of all new cars sold will be electric, implying EV volume growth of ~2,000% over the next 20 years.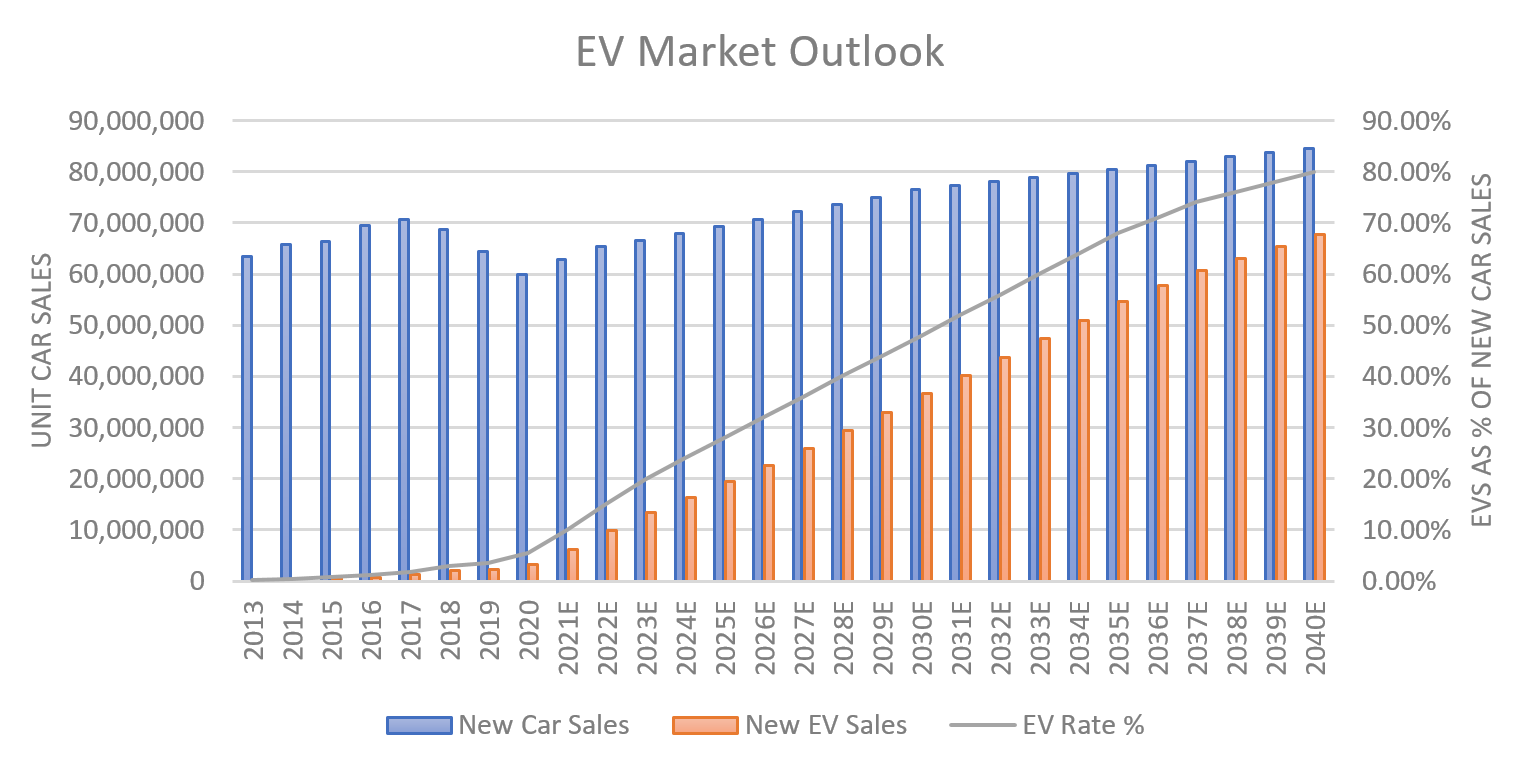 With so much growth potential over the next two decades, the EV industry offers investors multiple excellent long-term investment opportunities.
Of course, you could go out and buy Tesla stock. That's an obvious pick. But, let's be honest, at this stage in the game, Tesla stock is not going score you huge returns.
That's because the stock has already had its run, and the company is already valued to reshape the global auto market, with its enormous $860 BILLION market cap.
But here's the thing…
This isn't a winner-take-all market.
Tesla isn't going to be the only major player in the EV industry. The simple reality here is that we live in a heterogeneous society – until the day comes where we're all perfectly "okay" driving the same car, there will exist multiple huge and successful automakers in the world.
The million-dollar-question, then, is: Who is going to join Tesla as a future titan of the EV industry?
To answer that question, let's turn to our most exclusive investment research service, Early Stage Investor.
For readers who are unaware, Early Stage Investor is our small-cap investment advisory where we focus on investing in the world's most innovative companies and game-changing technologies… while they're still in their early stages… before they soar thousands of percent like Tesla.
Very recently, we just launched a brand-new portfolio in Early Stage Investor called the "4 EV Stocks for Financial Freedom" portfolio – and in that portfolio are the names of 4 EV stocks that we feel are best positioned to follow in Tesla's footsteps, turn into giants of the future EV industry, and ultimately score shareholders enormous profits.
The best part? All 4 of those stocks are tiny and off the radar of most investors, so getting in now is like getting in on Tesla back in 2015… when most people hadn't heard of the car company, and before the stock made its early shareholders millionaires.
These stocks could do the same.
So… what're you waiting for? Click here to find out which stocks could be the next Tesla, and help you achieve financial freedom.
On the date of publication, Luke Lango did not have (either directly or indirectly) any positions in the securities mentioned in this article.