Let me start this issue by stating a simple fact: People love sports.
Personally, there are a few days in my life that stand out as the best days of my life. I can picture them now…
The day my daughter was born.
The day my wife and I got married.
The day I graduated from Caltech.
The day I scored my first 10X winner with AMD stock.
And, of course, the day LeBron James led the Cleveland Cavaliers to a 3-1 comeback in the 2016 NBA Finals against, what was considered to be, the greatest NBA team of all time – the Golden State Warriors.
Yep. A sports memory makes the cut. I love sports – and I'm not alone.
About 60% of Americans consider themselves sports fans, and the most watched broadcasts in the history of TV are universally sporting events.
With that in mind, let me throw out another obvious fact: People like to make money. I don't have to tell you any stories or cite any stats for you to understand that – it's human nature.
So, considering those two simple realities, it has always baffled me how sports betting – which is just the overlap of "people making money" and "people watching sports" – has remained niche for so long.
The hold up? The law.
For decades, sports betting has been illegal pretty much everywhere outside of this little place called Las Vegas in the middle of the Nevada dessert.
But that stopped being true on May 14, 2018, when the Supreme Court of the United States overturned the Professional and Amateur Sports Protection Act ("PASPA"), which since 1992 had prevented U.S. states – aside from Nevada, Delaware, and Oregon – from engaging in the regulation and taxation of interstate gambling and sports betting.
When the Supreme Court overturned PASPA in 2018, the floodgates were knocked open. Since then, 26 states and Washington D.C. have legalized sports betting and have live operations today.
Another six states have legalized sports betting with live operations coming soon, and two have active legislation in the pipeline. About 50% of Americans today live in a state with legal sports betting.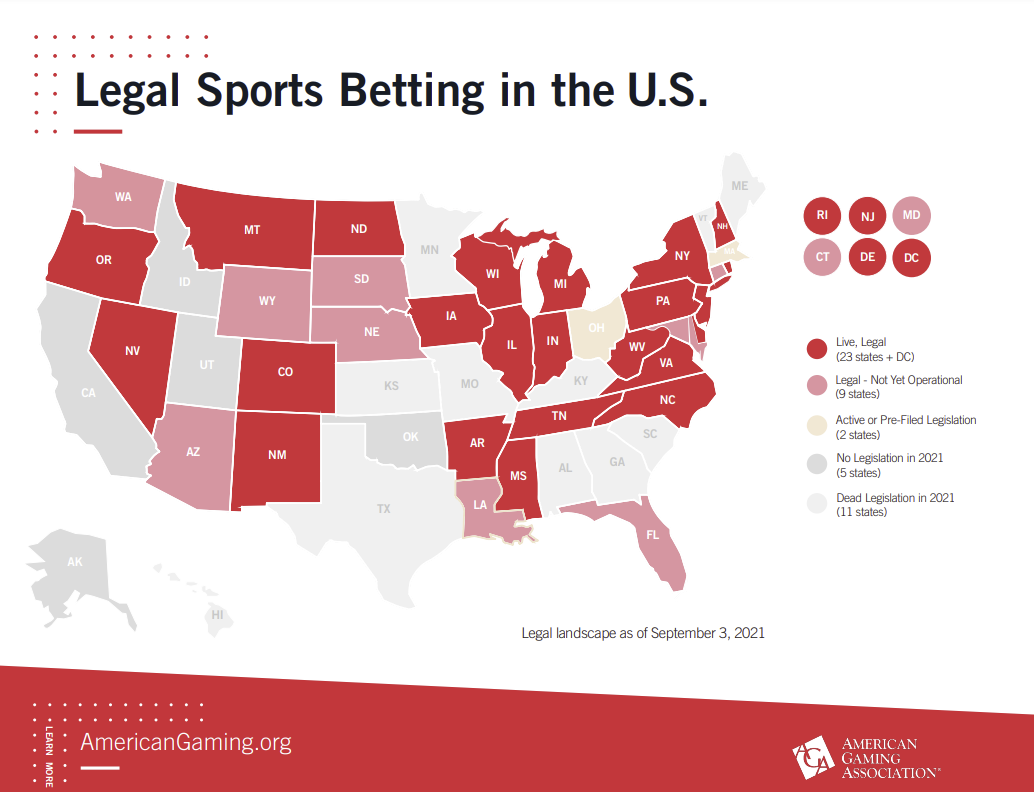 Tally it all up, and you're talking 34 states that will likely have legal sports betting by 2022. Remember: Just four years prior, it was illegal pretty much everywhere.
In other words, while legislation is notoriously the slowest process in the book, sports betting legislation has moved forward at breakneck speed, setting the stage for pent-up demand to get unleashed much sooner than most anticipated.
That's exactly what is happening right now.
The number of NFL sports betting transactions through the first four weeks of the NFL season is up 122% year-over-year to nearly 150 million transactions. Iowa's September sports betting handle rose 191% year-over-year. Indiana's rose 71%, and Montana's rose 23%.
The New York Times just ran an article about New Yorkers biking across the George Washington Bridge to place bets in New Jersey (where sports betting is legal).
It's happening elsewhere, too.
Online gambling just launched in Connecticut.
Maryland is moving forward with legalizing sports betting.
In Louisiana, 13 of the state's 20 casinos have applied for a sports betting license.
Florida is inching toward its legal sports betting launch.
Wisconsin, too, plans to launch sports betting this month. Murmurs are that Minnesota will legalize it next.
There's a lot of momentum in the sports betting world right now.
But we are only in the first innings of a sports betting boom, which is why it's time for you to turn your attention to stocks that could soar as sports betting takes off.
ARK Invest estimates that the online sports betting market in the U.S. alone will grow from $9.5 billion today to $37 billion by 2025, implying a near 4X increase in value in just four years.
Not too many industries are going to grow by 4X in four years.
And that's why we're very bullish on hypergrowth stocks tied to the sports betting market. One day, the global online sports betting market will be huge, with little-known companies today positioned for several years of big growth tomorrow. Everyone will be placing bets on their phones with ease. It'll be a way of life.
One company at the center of it all is DraftKings (NASDAQ:DKNG), because it can and will rely on durable technology advantages and network effects to remain the "top dog" in online sports betting and daily fantasy sports.
But it's not the only sports betting stock to buy now…
In my exclusive investment research advisory The Daily 10X Stock Report – where I highlight one potential 10X stock pick every single day the market is open – I've included a handful of great sports betting picks to date.
A couple of them have already soared…
But we're still in the first inning of this ballgame (no pun intended), and that's why I'm going to keep highlighting new sports betting stocks in The Daily 10X.
These stocks are going to absolutely soar over the next few years as the sports market quadruples in size.
You stand to make a lot of money in this booming megatrend – but only if you pick the right stocks.
And by clicking here, you may very well remember the day you scored your first 10X winner in the sports betting boom.
On the date of publication, Luke Lango did not have (either directly or indirectly) any positions in the securities mentioned in this article.