There are certainly frowns on the faces of investors in SmileDirectClub (NASDAQ:SDC) today. But with a new month upon us, could SDC stock dramatically improve?
Let's review some of what's happening both off and on the price chart of SDC stock, then offer a risk-adjusted determination aligned with those findings.
It's a new twist on an old technology: braces. SmileDirectClub has brought improved smiles to the faces of more than one million customers since 2014 through the company's pioneering telehealth orthodontia platform and affordable aligners.
But at the outfit's last quarterly checkup, the results failed to produce ear-to-ear grins for SDC stock's bullish base.
SmileDirectClub Had a Rough Second Quarter
In summary, SmileDirectClub's second-quarter operations offered a wider-than-expected loss of 14 cents per share, which missed street estimates by 5 cents. SDC's top line also came up short by about 12%. And it gets better — at least for short-sellers.
SDC also reported a sequential decline in its business from Q1. That's not great, of course. But making matters much worse is SmileDirectClub's iffy financial position.
Ballooning expenses and persistent negative cash flow, as well as distressed and growing total debt, don't look good for SDC stock's long-term shareholders. Moreover, those red flags have attracted a rather significant bear population of 32% licking its chops over the company's questionable health.
Could help could be on the way, though? Technically, the advice is not to hold your breath — instead, leave it to SDC stock's monthly price chart.
SDC Stock Monthly Price Chart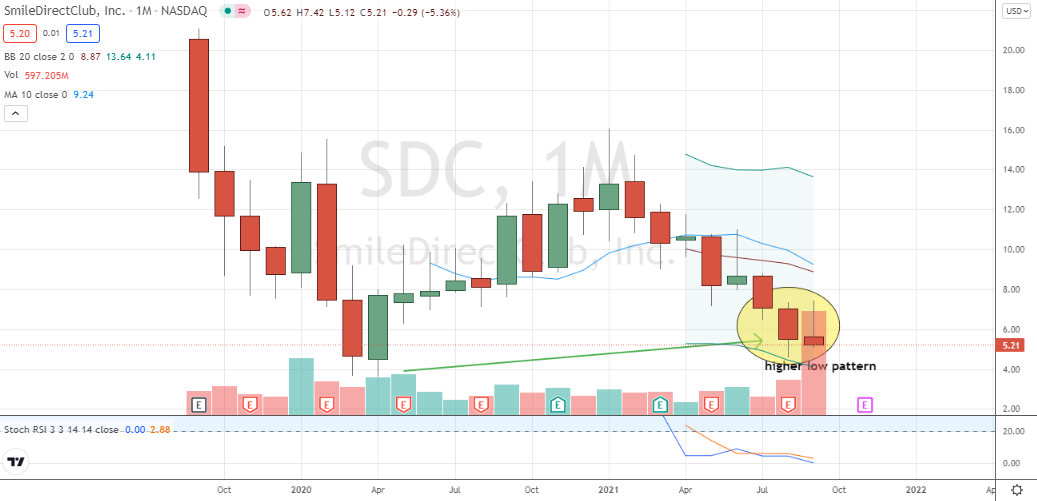 Source: Charts by TradingView
Without passing judgment today, SmileDirectClub is also a meme stock. A sudden bursts of hashtags, comical gifs and tweets are being flung in the direction of the company's shares by retail-trading bulls.
Considering SDC stock's heavily-shorted float, the interest isn't exactly a surprise given the success of short-squeeze plays like GameStop (NYSE:GME) and AMC Entertainment (NYSE:AMC).
But so far this year, Reddit users' faster money operations have only yielded fruit for the most fleet-footed bulls. In the end, shares have largely benefited SDC stock bears this year, shrinking by more than 55% year-to-date.
And today, as we close out the trading month, the bulls' frowns have only grown more permanent with a confirmed higher-low, double-bottom pattern now at risk of failure.
Since narrowly confirming August's pivot low on record weekly volume of nearly 300 million shares, SDC stock has retreated almost 30% into the lower quartile of the monthly candle's body.
Technically, the trade has been an obvious disappointment. I wouldn't hesitate to sell SDC stock and move on if the pattern fails. Today's valuation of around $2 billion should serve to warn bulls of a much lower possible share price.
Still, in the spirit of an obviously "flawed but fun" squeeze play, what does look promising for shorter-term traders is a purchase.
Another Way to Play the Trend in SDC Stock
Heading into October, a more advantaged buy decision is setting up within SDC's August candle — if monthly stochastics can put together a bullish signal. If the technical low remains intact, a purchase using this strategy could offer buyers vastly reduced downside exposure with the opportunity for a much larger profit.
That amounts to risk of just 12% at the current price of SDC stock.
Comparatively, if shares then rallied back to only test this month's high, traders would have profits of around three times the initial risk. For a stock of SmileDirectClub's caliber, that's a gift whether bullish investors walk away pleased or not.
On the date of publication, Chris Tyler does not hold (either directly or indirectly) any positions in securities mentioned in this article. The opinions expressed in this article are those of the writer, subject to the InvestorPlace.com Publishing Guidelines.
Chris Tyler is a former floor-based, derivatives market maker on the American and Pacific exchanges. For additional market insights and related musings, follow Chris on Twitter @Options_CAT and StockTwits.