I'm all about finding the next big thing in the electric vehicle (EV) space to unseat Tesla (TSLA).
Forget what's big today. Capitalism is defined by creative destruction. Nothing lasts forever in an economy where we are all incentivized to always go bigger, do better, and be stronger.
Just look at a list of the biggest companies in the world back in 2001, and compare it to a list of the biggest companies in the world today. There aren't too many similarities.
The 2001 list includes General Electric, Cisco, ExxonMobil, and Pfizer at the top. None of those companies crack the top 10 today. In fact, of the 10 largest companies in the world back in 2001, only one of them (Microsoft) remains in the top 10 today.
That's the game, folks. Betting on today's giants is a losing bet. Betting that they'll get replaced… now that's the winning bet.
This is exactly why, as an investor and analyst who has been bullish on Tesla stock ever since it was a startup struggling to deliver cars back in 2017, I'm pulling back on my bullishness today.
Tesla has already made it. It's a giant. It's the king of the auto world. And just as the old king of the auto world — Toyota — has since been replaced by Tesla, the EV giant will inevitably get replaced by another auto company in the future.
That's just how capitalism works. Nothing lasts forever.
Tesla and Toyota stocks have more upside potential, but that even bigger question now is… who is going be the next Tesla?
As a result of our ongoing research, our best guess is that the auto company that will eventually unseat Tesla is Lucid Motors (LCID).
Tesla has built this seemingly untouchable EV empire on top of three critical competitive advantages: Talent, Technology, and Brand.
In short, Elon Musk has managed to attract the most talented engineers on the planet to build the best battery technology on the planet, and has packaged that technology in a super-sleek car that has unrivaled brand equity (Tesla is basically the first "cool" semi-mainstream auto brand in decades).
But those competitive advantages are starting to erode, and pioneering this erosion is Lucid Motors.
On the talent front, Tesla has actually lost a bunch of talent over the past few years. Some has gone on to work at other auto companies. But most of it has churned to start their own EV startups, on the idea that they can build cars to rival Tesla's.
The best-of-the-best of these Tesla-inspired startups is Lucid Motors. The company is led by Peter Rawlinson, the former chief engineer of the Tesla Model S. Yes. This is the guy who was the engineering brain behind Tesla's flagship car — the one that started it all.
Supporting him is an impressive team of former Tesla, Audi, Apple, Samsung, Ford, Intel, and GM execs. We're talking folks who helped start Tesla and turn it into what it is today, as well as some very influential people behind some of Apple's hero products, like the iPhone.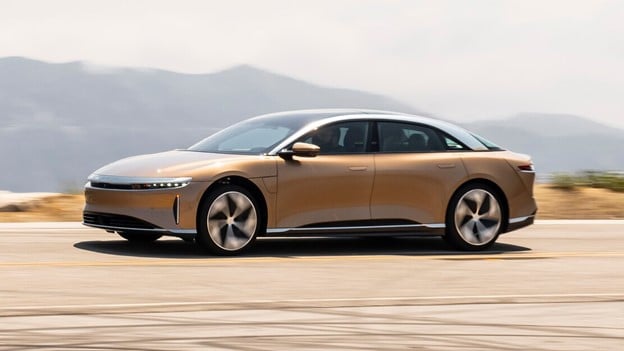 This is the most impressive confluence of talent in the EV industry outside of Tesla — and it's not even close. Relative to Tesla, Lucid Motor's management team stacks up equally. And, given the current trend of Tesla losing talent and Lucid Motors gaining talent, it doesn't take a data scientist to project that by 2025, Lucid Motors will have more talent than Tesla.
Now, because Lucid Motors has amassed an impressive engineering and design team to create a new class of premium EVs to rival Tesla cars, the company has developed, tested, and fine-tuned some of the industry's most impressive technology.
To answer your question, yes, this technology beats Tesla's EV tech on every key performance indicator.
We're talking longer driving ranges, more horsepower, denser motors, faster acceleration, tighter control — the works.
Up until recently, those specs were all talk, no walk. But just two weeks ago, MotorTrend and Lucid management took two Lucid Air Dream Editions for a 445-mile drive from Los Angeles to San Francisco — and all the specs checked out. Not only did both cars last that entire drive with plenty of charge left, but they also drove like top-of-the-line sports cars.
MotorTrend called the Lucid Air Dream an "absolute mic drop," and said it is "absolutely a threat to Tesla."
Of course, these amazing specs come with a higher price tag. The Lucid Air Dream is going for $170,000-plus. But that gets us to the last point: Branding.
Here's a big thing about cars: We don't all want to drive the same car. Of particular relevance to Tesla, high-income folks want to drive nicer cars, because it's a status symbol of their wealth.
There's a reason Porsche, Maserati, and Lamborghini don't make $20,000 cars everyone can afford — they want to maintain their premium brand equity. But Tesla has a dream of democratizing EV ownership, and as a part of that dream, the company is working tirelessly to drive the price of its cars down to $20,000.
On one hand, that's great, because it means Tesla will unlock mainstream EV demand. But, on the other hand, it's bad, because it means Tesla is diluting its premium brand equity.
After all, there are tons of millionaires out there who simply won't buy a car that a just-out-of-college kid could afford as their first car.
Sure, there's a difference between the Model 3 and the Model S — but the ostensible difference isn't that big (I have to do a double-take on roads to identify if a car is a Model 3 or Model S), and it certainly isn't big enough to save Tesla from inevitable premium brand equity erosion as its cars get cheaper, and cheaper, and cheaper.
Yet, EV demand in the premium channel isn't going anywhere anytime soon. If anything, it's only going to increase — meaning there is a unique and compelling opportunity over the next few years for a new EV brand to eat Tesla's lunch in the premium channel.
Enter Lucid Motors.
Lucid Motors is positioning itself as a so-called "post-luxury" brand that focuses on elegance and modernity, over the traditional legacy focus-points of opulence and indulgence. The company has designed its car with this post-luxury vibe in mind. Earthy tones. Sustainable materials. Simple controls. Connected ecosystem. End-to-end customer experience. Tech forward. Peaceful ambience. These are attributes that consumers place a high value on today — and Lucid Motors knocks all of them out of the park. It's the dream car.
And, importantly, it's going to retail for over $70,000 for the foreseeable future. It will, for the next few years at the least, be a car that only the rich can afford — and, as such, the Lucid Air will be the most in-demand premium EV in the early 2020s.
Thereafter, Lucid Motors will copy the Tesla playbook.
Create a super high-demand premium EV. Use that big demand as proof-of-concept to raise a ton of money and scale production. Leverage economies of scale to drive down production costs. Rely on premium brand equity to launch lower cost models in the future with still high demand and at high margins. All the while, leverage strong core battery tech to develop energy storage solutions that gain mass adoption.
That's how Tesla became a $700 billion company. It's how Lucid Motors will become just as big one day.
So, step aside Tesla. It's time for the disruptor to turn into the disrupted.
To be clear, this doesn't mean Tesla stock is going to crash. Tesla is a great company. It's going to keep selling a lot of cars, power walls, and solar panels. Growth will remain vigorous. The stock will keep doing just fine.
But Lucid stock will do better, because it's going to grow faster, for longer, and is valued at 5% the size of Tesla — so there's much, much more room to run.
So, what's the investment gameplan?
Own both stocks. Sell Tesla stock once it gets exhausted around $1,000, probably in 2022. Sell Lucid stock once it gets exhausted around $200 in 2030 (that's our 2030 price target).
That is exactly our strategy in our Innovation Investor portfolio — which is a portfolio completely geared at investing in the next big things.
We don't invest heavily in incumbents for a cool 20% return in a year. Rather, we invest in disruptive startups for a life-changing 1,000%+ return in a decade.
As is true in life, the stock market rewards those who can see what will be there, not what is there. Tesla is the present. Lucid Motors is the future.
To learn more about how to invest in the future, click here.
[signature]
On the date of publication, Luke Lango did not have (either directly or indirectly) any positions.